Mount Rainier National Park in Seattle
The first weekend in Seattle couldn't have got off to a better start. We visited Mount Rainier national park, around 3 hrs drive from Seattle. Mount Rainier is a dormant volcano and is huge, at almost 5000 metres in height. There are dozens of glaciers on this mountain. The park has many entrances amongst which the most popular one with the residents of Seattle is the Nisqually Entrance. at the southwest of the national park. To get there, drive towards Ashford from Seattle. The entrance is around a 100 miles from Seattle.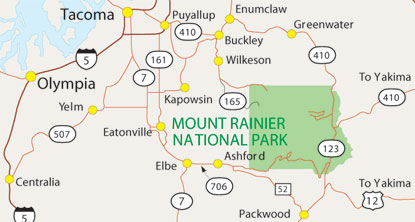 This way into the park will get you to the most popular locations and is ideal for a 1-day trip.